Your Target Audience and Your Brand
Tailoring your communication style to your perfect customer and your target audience is KEY. Think of it this way – Would you talk to your 15-year-old son the same way that you would talk to your 35-year-old best friend and mother of three? Of course not! Every business has a unique target audience. Therefore, you need to recognize the importance of creating a clear brand voice and communication style that fits your specific customer. Use our five-minute guide below to help create your avatar and hit your target audience.
First, you need to identify exactly with whom you want to communicate. Next, clarify his or her unmet need (and why he or she needs your product/service).
#DIGITIP
Instead of thinking about a group of people, complete this profile as if you were describing ONE individual. You may want to give them a name to make this easier!
WHO is your perfect customer?
Your brand helps you communicate your product or service directly to your customer. How do you know if they understand your message? Do you feel like you are shouting into an empty space with no one listening?
Creating a perfect customer "avatar" identifies your target audience in a quick and easy way. This detailed profile will help identify your brand voice and help you to tailor your brand to reach your perfect customer.
Use the checklist to the right to help define your avatar.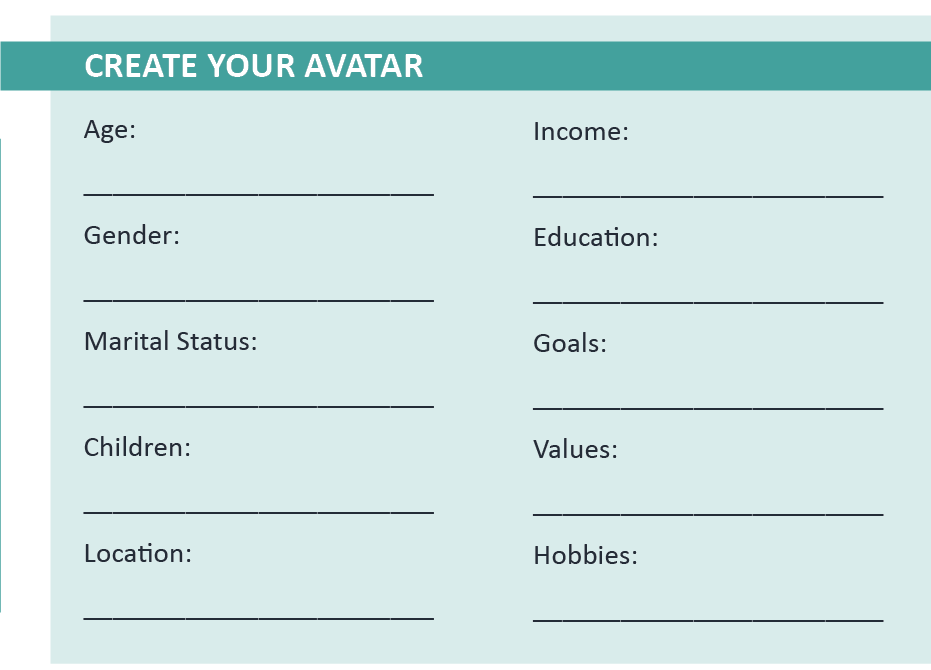 CHALLENGES — Why do they need your product/service?
Now, help define your avatar even further by identifying some of his or her challenges. First, what are his or her fears? How can your product or service help resolve them? Next, what are his or her objections? What prevents your avatar from using your product or services? Finally, what competitors affect your brand and/or business? Where else can your avatar resolve his or her challenges and how do you beat that competition?
Your Brand Voice
Now that you've clarified exactly who your customer is, you're ready to identify your tone. Here are a few examples of how you can match your brand voice to speak directly to your perfect customer:
Client 1: B2B, CEO Female, 45 years old

Brand Voice: Professional
Example: "We're here to help take stress off of your plate"
Client 2: MLM, Female, 30 years old, mother to an infant

Brand Voice: Casual, Friendly
Example: "Hey girl, it's time to stop putting yourself last!"
Understand your target audience
Congratulations on taking the time to create your avatar! This helps you take one more step to understanding your customer. We've created an entire branding guidebook to help you communicate your brand message more clearly.
In addition, make sure to check out our marketings strategy assessment to get your business on track for the remainder of the year. As always, if you need any more tips, we are here to help!